-An international web-based transcription service-
When quality counts and professional, courteous service matters, eTranscriptions Solutions is the place to go for all your online transcription needs!
Since 1999, eTranscription Solutions has been dedicated to providing clients with fast, accurate, and affordable transcripts in a format specifically suited to each client's individual needs.

-Media Formats-

eTranscription Solutions now has the technology to communicate with you via your preferred method of communication and document delivery. Whether it's audio uploaded to our website, DropBox, Hightail or emailed audio, as well as CDs or any other variety of communication, eTranscription Solutions is able to provide you with the information needed, when you need it!

-Transcript Returns-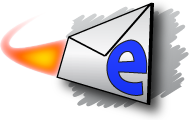 eTranscription Solutions not only allows you to quickly upload your audio files but also streamlines the return of your transcripts in any format that you need. Same day or 24-hour turnaround is no problem for our committed staff! All work is completely proofread for accuracy by our specially trained quality assurance editors.

-Confidentiality-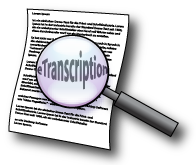 eTranscription Solutions does not compromise your confidentiality and privacy. All transcriptionists and proofers have signed confidentiality agreements, so you can be assured that your sensitive information is safe with us.